October 2019 Promo/Offers!
October is here and we have enticing offer for everyone ranging from our hotel accommodation to a boozy experience at our restaurant, and a delightful food galore at our consumable packages in our dining hall. We all have it here for you as follows:
HOTEL ROOMS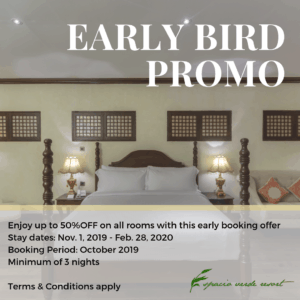 Enjoy up to 50%discount on all room types if you book your stay this October for a minimum of 3 nights.
Stay dates: November 1, 2019 – February 28, 2020.
RESTAURANTS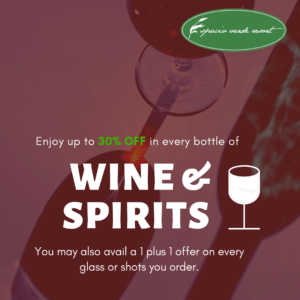 Get 30%dicounts on every bottle of wines and premium spirits you ordered from Abuelo & Aquatico restaurant. Furthermore, we offer a 1 plus 1 for every glass and shots you will order.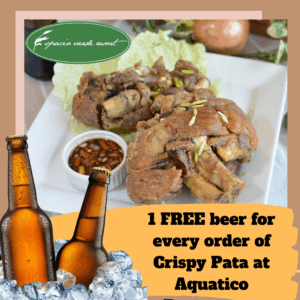 In every order of Crispy Pata from Aquatico restaurant, you'll get 1 FREE bottle of beer.
CONSUMABLE RATES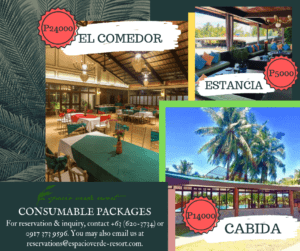 Avail our consumable packages in three (3) of our dining/event areas as follows:
Estancia – P5,000.00
Cabida – P14,000.00
El Comedor – P24,000.00
Note: Foods can be ordered from either Abuelo or Aquatico restaurant. For the Cabida package, it comes with free swimming voucher. The El Comedor package comes with 1 overnight stay for free in the Garden Suite.
EVENT PACKAGES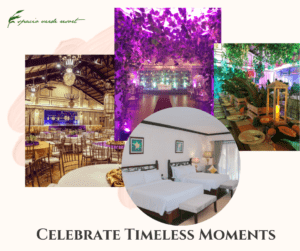 Get 1 FREE room accommodation if you hold your events with us this October.
For booking and inquiries, please contact +63 (036) 620-3734 or +63917 373 9596.
Promos cannot be combined with other existing offers. Terms and conditions apply!