Espacio Verde Resort Celebrates its 11th Year Anniversary with Giving Back to the Community
As one of Roxas City's top destination for hotel stay and food experience – Espacio Verde Resort is scheduled to celebrate our 11th Year Anniversary on August 8, 2019 and we're planning to start it with giving back to the community which supported us all these years.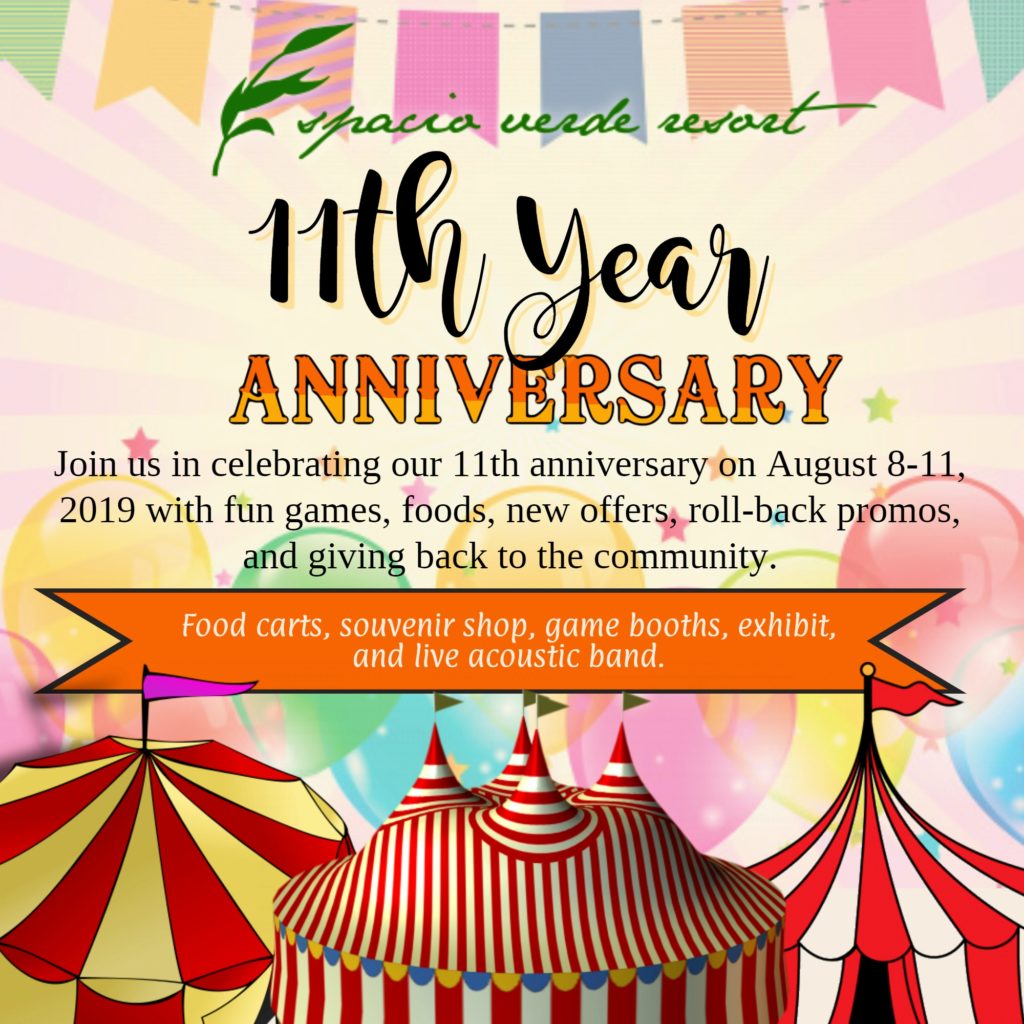 Espacio Verde Resort's 11th Year Anniversary will start with a thanksgiving mass which will be followed by a community outreach program in our neighboring barangays: Brgy. Barra, Brgy. Libas, and Brgy. Dayao at Roxas City. We shall provide feeding programs to daycare centers in the said barangays and also donate school supplies to the daycare students as we believe that education is an important foundation to build a better future for the next generation. And we hope that by helping the daycare students even in this simple ways will help them and give them the first step to aim and value their education. Furthermore, we shall also give educational materials and mediums to the school to help the teachers in their mission to raise and educate students with the desire for a brighter future.
Aside from the community outreach program, Espacio Verde Resort will also launch our new offers at Abuelo & Aquatico restaurants.
Restaurants New Offer
Abuelo Restaurants will soon offer adlai rice dishes to promote a healthy diet to our valued guests. Our new adlai rice dishes include the following:
Adlai Paella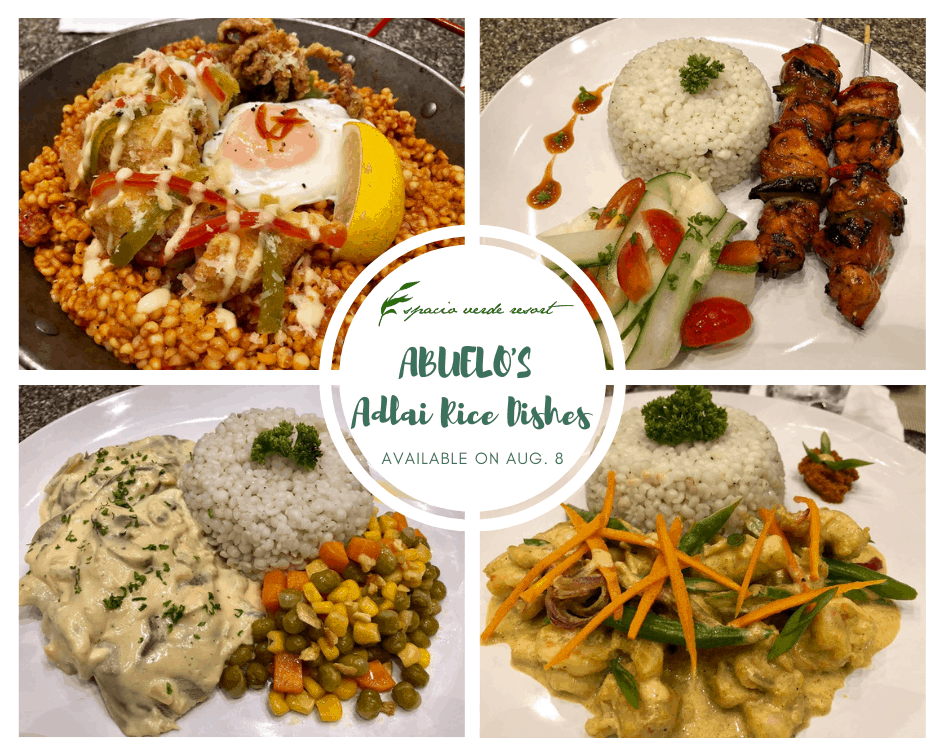 Adlai set meals partnered with creamy lengua estofado, seafood curry, and chicken kebab.
This slideshow requires JavaScript.
In addition, we will also launch our Abuelo's Afternoon Tea & Coffee on August 8. It's our 3-layered treat to everyone who loves coffee and tea which is prepared with several appetizers and confectioneries that we specially prepared for you.
This slideshow requires JavaScript.
Meanwhile, our Aquatico restaurant will also start offering our Boodle sa Nigo – it's our own version of boodle fight in a bilao (rice winnowing basket) fitted with selected items such as seafoods and pinoy classic foods that suits every Filipino's appetite. It is also a new treat that we could be proud to offer even to our foreign guests as we love to introduce Filipino cuisines with local flair to them.
This slideshow requires JavaScript.
We have also prepared a 4-day (Aug. 8-11) simple carnival-theme market at our Veranda area on which everyone could avail our specially prepared foods for only 11php and even play some games with a chance to win surprising treats from us. We will also prepare a souvenir shop where you can purchase some of the proud products of our province including Capiz Shells accessories, processed seafoods, and customized T-shirts.
In our pool area, anyone who'll swim could have the chance to win vouchers that you can claim from our food carts and lemonade stand.
We also offer a roll-back rates for anyone who'll stay for the night on August 8, 2019 at our Garden Suites on which you stay for as low as P3,600.00 for 2 person.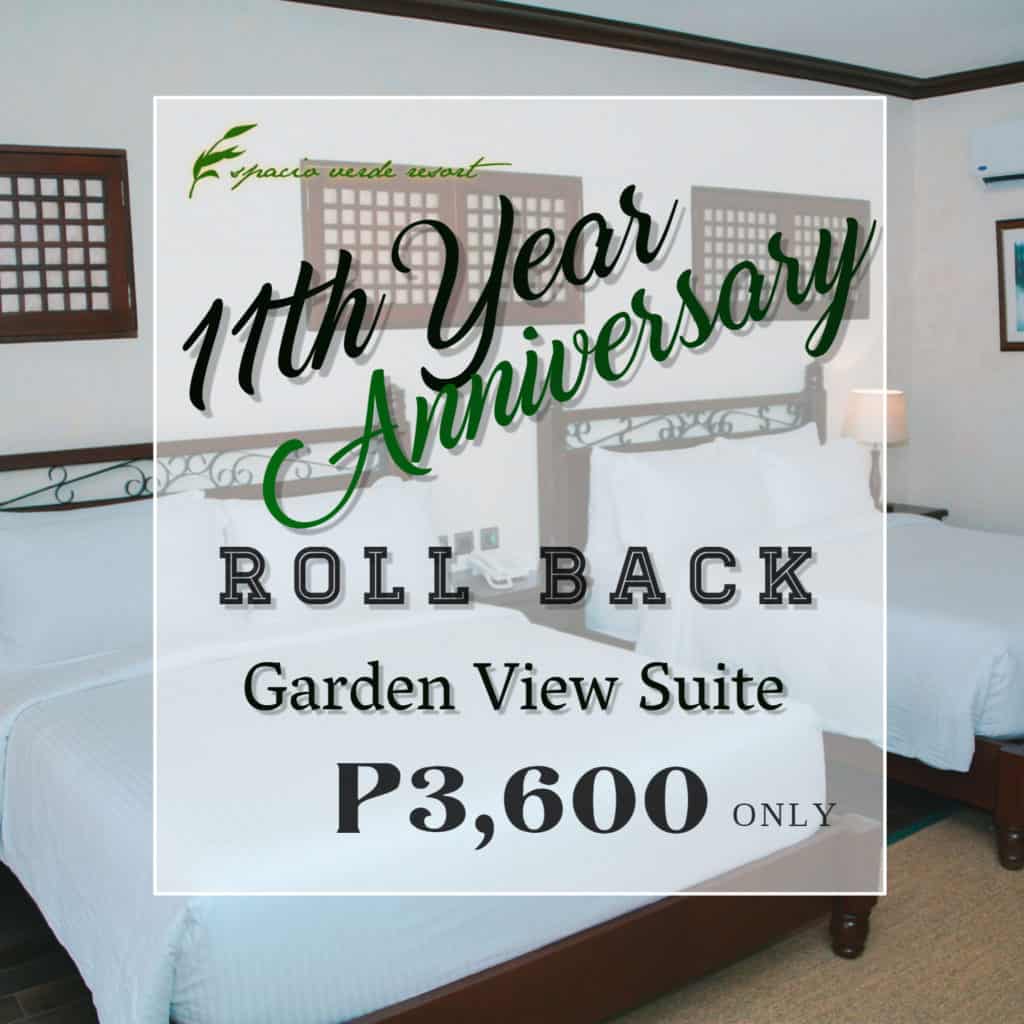 Come and join our celebration on August 8 until 11, 2019 as Espacio Verde Resort finally turns 11. See you here!